Industry Insights
5 Byte-sized Insights from the Americas Tech Leaders Conference
Image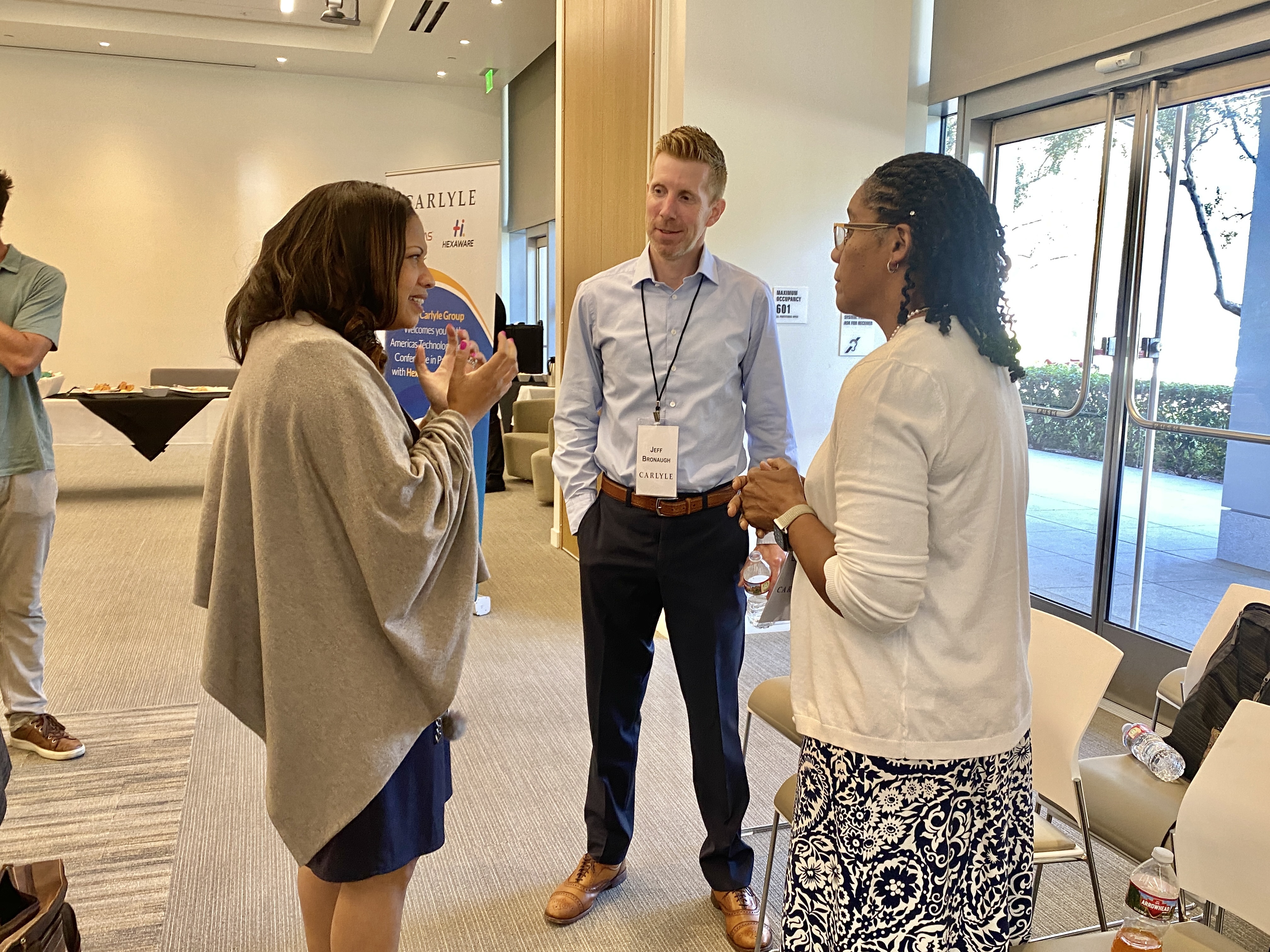 At Carlyle, we aim to drive a consistent and repeatable value creation framework through the entire investment lifecycle with over 270 active portfolio companies. Leveraging our global expertise, scale, and reach, our Global Portfolio Solutions (GPS) team guides and enables Carlyle portfolio management teams to strengthen operations, accelerate growth, and catalyze change. In our functional areas of expertise, such as technology, we identify opportunities with our portfolio company management teams to increase the speed of growth and drive operational excellence within their business.
Carlyle's annual Americas Technology Leaders Conference convened over 70 of our technology portfolio company executives for engaging panel discussions on key business transformation topics including data analytics, cybersecurity, and automation. Executives joined together for a reception at Levi's Stadium, the home of the San Francisco 49ers, and 49ers Chief Strategy Officer Moon Javaid presented to leaders on the data and digital transformation that powers the stadium and provided inspiring demonstrations of the "executive huddle" rooms that use innovative technology. We also held several informative moderated panel discussions with participation from portfolio CIOs, CTOs, and CISOs, as well as networking opportunities at the headquarters of Veritas Technologies in Santa Clara, California.
Image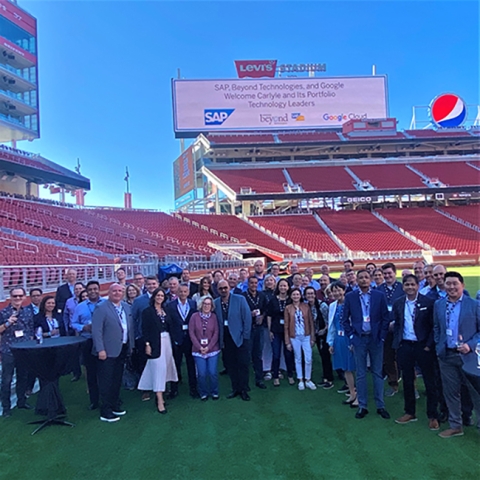 Read below for five key perspectives from Carlyle GPS leaders and portfolio company executives shared during the event:
1. Digital transformation requires a nuanced approach
We challenge management teams to consider how to change or advance their company's business strategy digitally. Panelists weighed in on how to leverage digital transformation most effectively to better understand their customers and employees, drive efficiencies, and create new lines of business. We heard examples of how tech leaders funded their innovation and transformation agendas by finding efficiencies in their existing spend portfolios. Our leaders also believe companies should aim to prioritize user experience to efficiently drive success in engaging customers and retaining talent. Technology leaders can seek to drive efficiencies by putting the customer and employee experience at the center of their business initiatives.
Jason Landrum, Chief Information Officer at Sedgwick, shared: "I believe in focusing on changing your business digitally. Understand the user journey and how to make it more efficient and make processes more intuitive."
2. Effective technology leaders start by understanding the business
To deliver value through technology, we believe leaders should start with a fundamental understanding of their business vision and strategy. Chief Technology and Information Officers increasingly find themselves as candidates for non-technical roles in the C-suite as the importance of technology evolves. Our panelists challenged leaders to take the time to think more holistically about their business and focus beyond intricate technical details.
"The changing role of technology is reflected by the number of C-suite roles that are tech-oriented." - R. Srikrishna (Keech), Chief Executive Officer at Hexaware Technologies
3. Active engagement can strengthen cyber threat preparation
We heard that active and frequent engagement of employees and partners in cybersecurity awareness and monitoring can strengthen an organization's overall security posture. In addition, our technology leaders believe that maintaining a comprehensive picture of your data and technology assets is critical to establishing effective security processes and controls. A leader suggested that internship programs could be an effective way of developing a deeper bench of future security professionals.
Erica Antos, Chief Information Security Officer at TriNetX, shared: "Privacy and trust are paramount, we're being entrusted with data, therefore having security and technology together has been beneficial."
4. Proactive measures can drive cost optimization opportunities and mitigate risks
Our panelists discussed the importance of consistently reprioritizing initiatives and taking proactive measures to protect their businesses from volatility and challenges in today's business environment, such as regulations, product supply issues, and inflation. Leaders suggest leveraging existing supplier agreements and refreshing business continuity and downturn strategies to prepare to take action. In addition, leaders believe that finding technology cost optimization opportunities, such as evaluating third-party support providers and staffing agreements, implementing process automation, and assessing telecom waste, are valuable exercises to facilitate regularly.
Stefan Grunwald, Carlyle's Chief Procurement Officer, noted: "We believe companies should spend more time assessing the resiliency of the network to ensure availability of goods and services and also spend more time building effective models to identify cost improvement and inflation mitigation opportunities."
5. Useful data analytics means extracting real value
Our panelists believe the future of analytics lies in intelligent data products built on democratized data with a strong foundation of data governance. Panelists agreed that value generated from data and analytics remains a significant opportunity, as only a small number of companies have reached a high level of data maturity. Our discussion centered on the importance of harnessing the intelligence of your customers through innovative technologies and tools that allow businesses to build responsible, useful data sets.
Steve Pulec, Chief Technology Officer at YipitData, shared: "Do everything in mind to drive data quality. Organizations can focus on the importance of data analytics. "
After a hiatus of in-person events, we were delighted to reconvene executives from across Carlyle's portfolio for our Americas Technology Leaders Conference. Lúcia Soares, Carlyle's Global Chief Information Officer, shared: "Our technology leaders led thoughtful discussions on the role technology played during the last two years, driving business model change, business resiliency and laying the groundwork for future transformation." Michael Kingston, Carlyle's Chief Information Officer for the Americas, added: "The conference brought great energy and insights on a diverse agenda of topics, validating the central role that technology plays in value creation across the portfolio."